Our GC-FSC series hammer mill is widely used to crush wood chips, tree trimmings, wheat straw, plant stalk, corn straw and other materials with diameter less than 50 mm. The grind fineness of finished products can reach 3~5 mm.
GC-FSC Hammer Mill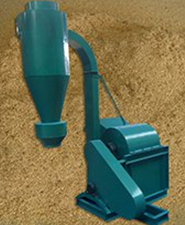 GC-FSC hammer mill has been exported to many countries all around the world. It has the traditional design but it adopts the latest advanced technology.

Model GC-FSC

Hammer mill with Electric Motor

(for wood chip / tree trimmings/ wheat straw  / plant stalk etc)

Capacity (kg/h)

500-700

Moisture of Feeding Material

Moisture max 20- 25%

Size of Feeding Material

Max. diameter 30mm
Max. length 300mm for wood materials

Final Size After Milling

Ø5×5mm

Gross/Net Weight

750/800kg

Motor

18.5kw

Overall Dimension (mm)

1700*1150*1200

Cyclone (2400*800*800)
GC-FSC-D Hammer Mill
Our GC-FSC-D hammer mill is high-quality with competitive price. It adopts high-speed strong wind suction grinding system and dust suction device. Its blade is made of high-carbon alloy steel. It enjoys many advantages such as: advanced design, compact structure, high production rate, low noise, stable performance and long service life.



Working Principle
GC-FSC-D hammer mill consists of feeding board, crushing chamber, the delivery device and other components. The rotor inside its chamber is made up of rotor disc and moving hammer. Rotor, sieve and toothed plate are its core components.
In the crushing process, the biomass materials are fed into the chamber of the mill from the feeder. With high-speed rotating hammer and repeated friction and collision on the tooth board, the materials will be crushed until they are small enough to leak through the sieve. Then, the dropped powder will be transformed to a storage bin by conveying fan. In the storage bin, the materials will be further separated, and powder is discharged from the bottom of the bin while the air is discharged from the top.
Model GC-FSC-D

Hammer mill with Diesel Engine

(for wood chip / tree trimmings/ wheat straw  / plant stalk etc)

Capacity (kg/h)

500-700

Moisture of Feeding Material

Moisture max 20- 25%

Size of Feeding Material

Max. diameter 30mm
Max. length 300mm for wood materials

Final Size After Milling

Ø5×5mm

Diesel Engine

22 HP