As the price of traditional fuel gradually increases, more and more people turn to the biomass energy, which is easy and cheap to collect. Consequently, biomass briquettes have a wider and wider application in heating. Thus, biomass briquette machine is also more and more popular.
The raw materials for making briquettes include various kinds of biomass materials, such as: wood shavings, wood chips, sawdust, rice husks, peanut shells, grass, corn stalks, etc. The briquettes made by our biomass briquette making machine have high density and can offer lasting energy.

Biomass Briquette Making Machine
Our biomass Briquette making machine, also called biomass briquette machine, biomass briquette maker, is screw model designed. It can be used to make quadrangular or hexagonal cylinder with the hole of 15-20mm in length inside. The briquettes made by our machines are quite easy and convenient to be stacked and they are more efficient when burning due to the carbonized outer layer and central hole.
GCBA Series Biomass Briquette Making Machine
GCBA series biomass briquetting making machines are equipped with automatic temperature control system. The motor can be 1kw/15kw/18.5kw/22kw-3phase-380v-50hz.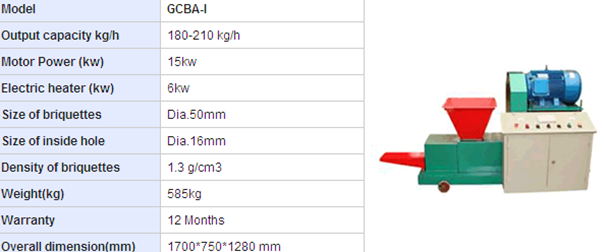 GCBB Series Biomass Briquette Making Machine
GCBB series briquetting machine is designed by our Province Energy Research Institute with the support of National Key Scientific and Technological Project. This series of briquette machines are more reliable in working performance. Besides, it can process a wide range of raw materials because of professional designs.
GCBB series briquetting machine has passed Province Level Technological Verification. Its comprehensive performance has reached the advanced international level of similar products. It has been awarded "National Prize of New Product".