This stamping briquette maker is designed with belt conveyor. It can produce not only biomass briquettes but also biomass pellets. The final products made by this briquette press have high density and high fuel value.
 This stamping briquette making machine adopts frequent conversion technology, which makes its speed adjustable and reduce energy consumption to large extend.
Besides, it can keep the temperature constant when linkage is running at high speed. Therefore, there is no need to worry about overheating due to frication and slider hugging.
This stamping briquette maker's automatic scraper system highly improves the efficiency and productivity.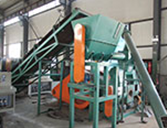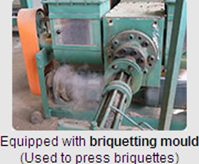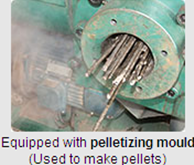 Model

Output (kg/h)

Main Engine Size (mm)

Weight
(kg)

Total Power (kw)

Finished Fuel Rod's Diameter (mm)

GC-MBP-500

500

3200*1500*1500

4500

35

φ50

GC-MBP-1000

1000

3400*2000*1800

7000

61.5

φ70/φ30/φ22/φ10/φ8
Basic Process of Biomass Briquetting:
Raw Material (moisture content below 10%) → Crushing → Feeding to fuel briquette maker (converter technique) → Briquetting or Molding → Packaging → Storage
Generally speaking, there are two main kinds of briquette maker machines: abrasive disc extrusion briquette press and mechanical stamping briquette maker. Abrasive disc extrusion type can generally be divided into three kinds: Ring die design, flat plate design, and ring & flat die design. The diameter of briquettes produced by abrasive disc extrusion briquette maker is 30mm * 30mm, while the diameter of mechanical stamping briquette maker can reach 80mm.
Moreover, the shape of mechanical stamping briquettes is diverse: round, square, hexagonal, perforated and other customized shapes. AGICO GROUP is a professional fuel briquette machine manufacturer supplying wood shavings briquette maker, biomass crusher, drier machine, etc.